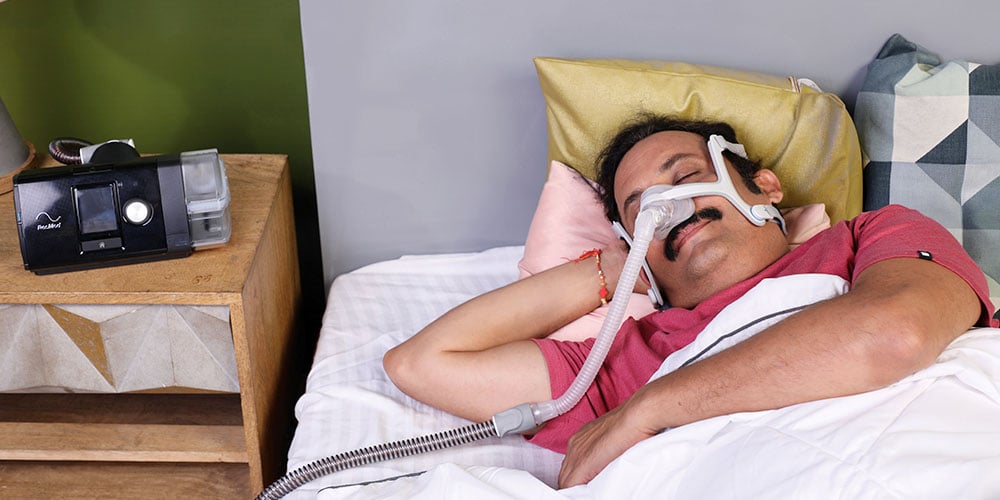 How to Pick a CPAP Mask based on Sleep Position?
Topics: CPAP Machine, CPAP Therapy, cpap, CPAP Masks
The use of Continuous Positive Airway Pressure (CPAP) therapy for managing Obstructive Sleep Apnea (OSA) is widely recommended by healthcare experts. For those wondering what is obstructive sleep apnea, it is a condition where pauses in breathing cause the patient to wake up gasping for air. Since the rest quality is compromised, these people feel dizzy or exhausted during the day.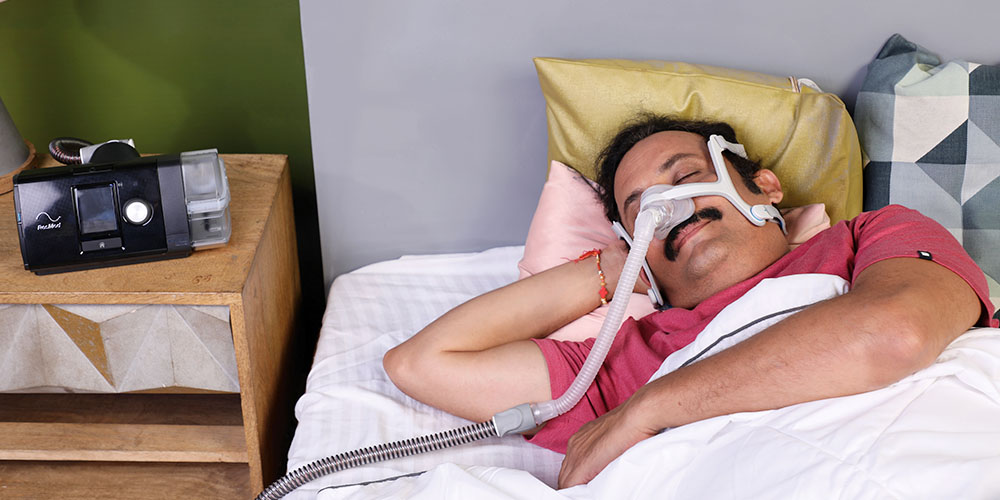 The sleep apnea machine can prevent this from happening by delivering pressurised air to the lungs and preventing obstructions on the way. But, for successfully managing sleep apnea, choosing the right CPAP mask is crucial. Here is how you can do this!


Importance of suitable CPAP mask
The Continuous Positive Airway Pressure (CPAP) machine consists of a mask and tube that help deliver pressurised air to the lungs. Choosing the right CPAP mask is vital for successfully treating sleep apnea since improper fitting can cause air leakage. If the mask doesn't have tight sealing, the whole treatment can be rendered useless.
Picking the right CPAP mask ensures comfort and convenience during sleep apnea treatment. If your headgear features tough plastic buckles or stiff anchor straps, they can interfere with sleep. To ensure this doesn't happen, you should be careful with the mask shape and where the headgear rests against the face.
Besides, not finding an appropriate mask also causes skin problems. Many CPAP users complain of rashes and irritation from using the sleep apnea machine. This happens when you use the wrong-sized mask. This is why finding a well-fitting and right-sized CPAP mask is a must.


Which CPAP mask is the best based on your sleep position?
Since using an appropriate mask can increase the efficiency of CPAP treatment, here is the type you must choose based on your sleep position:


1. Mask for side sleepers: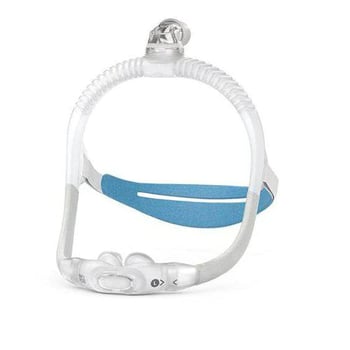 People suffering from sleep apnea are suggested to rest on their side. The practice reduces the effect of gravitational pull on the throat muscles and helps improve OSA.
Those who prefer lying on their sides should try nasal pillow masks. They deliver air directly into the nostrils and are light in weight. These masks feature a low profile and rest higher than the pillow. It ensures better grip and seal, even when the sleeper turns their face against the pillow.
Nasal masks are another option that side sleepers can consider. They cover all parts of the nose and have an effective seal and adjustable headgear to prevent air leaks. To enhance their effectiveness, side sleepers can also get a CPAP-friendly pillow.


2. Masks for back sleepers: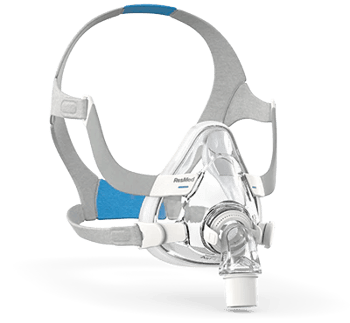 People who are used to sleeping on their backs have many options. They can pick one from numerous choices since this position accommodates all styles, including full-face masks. They offer whole-face coverage and feature a frame extending from the forehead to the chin.
Obstructive Sleep Apnea patients who like resting in the supine position and were not encouraged to switch sleep posture by their doctors can have their pick from nasal pillow masks, nasal masks, and full-face masks. You will likely be comfortable with any of these types, as sleeping on your back makes it difficult to dislodge the CPAP mask from its place.


3. Masks for stomach sleepers:
CPAP users who lie on their stomachs experience a unique set of challenges when picking a CPAP mask. It is so because when you rest on your stomach, the mask presses into your face and leads to discomfort and air leaks. Moreover, your head is also forced into a position where stress on the neck leads to next-day stiffness and pain.
Those who lie on their stomachs can only opt for nasal pillow masks. Their low profiles make them apt for stomach sleepers as they are unlikely to get dislodged or cause pain regardless of sleep position. However, people who pick these masks should ensure they don't experience air restriction because of the sleep position and firmness of the pillow.


CPAP mask accessories for comfortable OSA treatment
For enhancing ease and convenience during OSA treatment, here are a few CPAP mask accessories you should consider investing in:

Finding the right-fitting mask is crucial for successful Obstructive Sleep Apnea treatment. The right-sized and styled mask can prevent air leakage and obstruction in the airway. For this purpose, visit sleep specialists and update them on your condition and sleep habits. They can help you try and select CPAP masks suitable to your needs. To know which masks suit your therapy the most, speak to our sleep coaches* or contact your healthcare professional.


Disclaimer: ResMed Sleep Coaches are sales and customer service representatives who have received training in products to manage sleep apnea. They can give general information about products that may assist to manage sleep apnea, but are not qualified healthcare professionals and cannot provide medical advice.