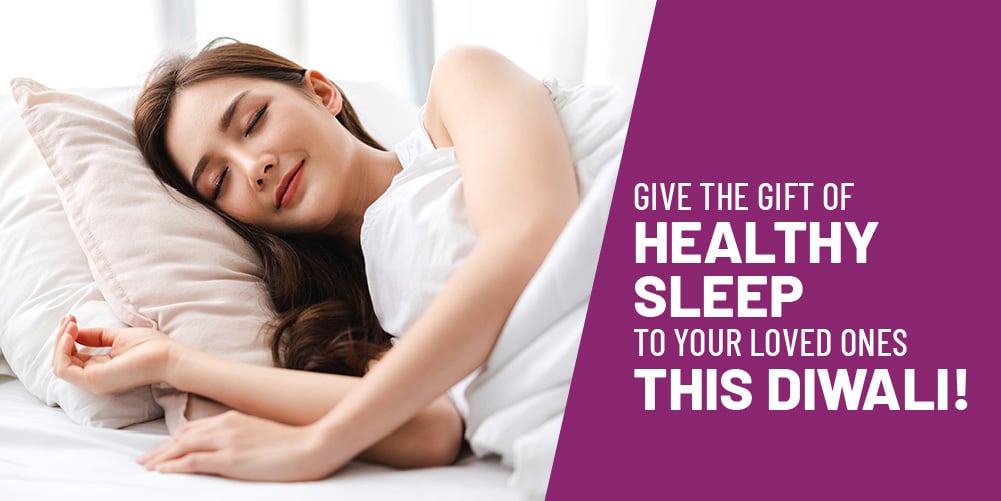 Give the Gift of Healthy Sleep to Your Loved Ones This Diwali!
Topics: Healthy Sleep, sleep test
Diwali is a festival associated with sweets and lights. On this occasion, people gather with their loved ones and spread joy and happiness. The celebration is also an excellent chance to show love and care to the people you hold dear to you. What can be a better gesture than giving your loved ones the gift of peaceful sleep to ensure this!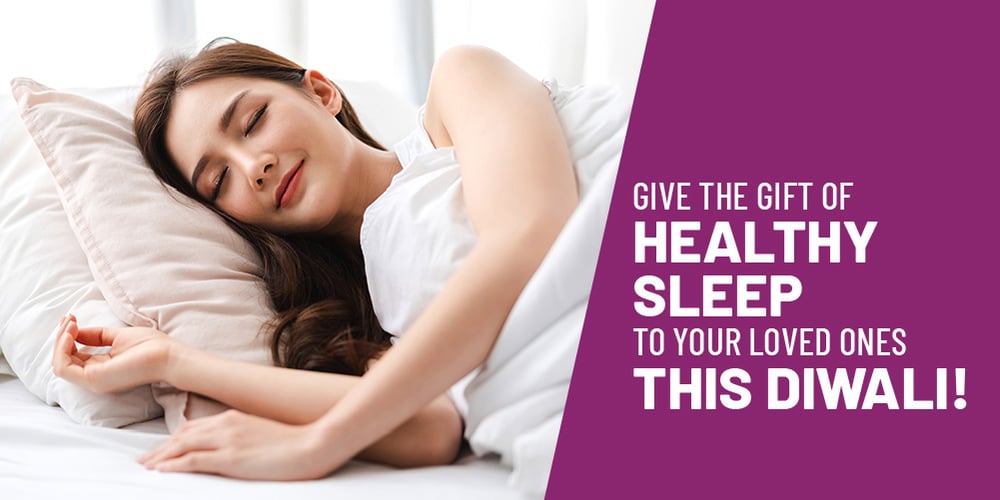 Why is sleep an ideal gift for Diwali?
For those wondering how is sleep an appropriate gift for Diwali, here are a few reasons:
Poor sleep leads to weight gain
A study found that children and adults who have poor sleep quality have 80% and 55% respective likelihood of developing obesity. This is due to numerous factors, including changes in hormonal levels. So, people who are trying to lose weight are recommended to get quality sleep as poor sleep is a decisive factor for obesity.
Good sleep increases productivity
Sleep quality impacts several aspects of your brain, including cognition, productivity, concentration, and performance. Research suggests that not resting well can negatively affect the functioning of your mind. For example, it can cause your brain to work in a similar fashion as it would after consuming alcohol. In contrast, good sleep improves productivity and works wonders for your problem-solving skills.
Enhances athletic performance
For better athletic performance, it is essential to catch on to seven to eight hours of sleep. It is so because getting proper rest improves speed, reaction time, accuracy, and overall mental health. In contrast, if you cannot sleep for the recommended duration, it might contribute to a slower pace and poor lower grip strength, making it difficult for you to perform individual activities.
Lowered rate of heart disease
Among numerous factors that may cause a heart attack, high blood pressure is also one. But, getting enough rest every night helps in regulating blood pressure. In addition, people who manage to catch on seven to eight hours of sleep are at far lesser risk of heart attack and other major health issues. Thus, sleep is vital for your overall health and well-being.
Poor sleep can lead to depression
The better is the sleep quality; the more satisfactory will be your mental well-being. It is so because sleep allows your brain to rest and gives it enough time to rejuvenate and recharge. Studies show that people who have sleeping disorders like sleep apnea or insomnia are more vulnerable to depression than others. Thus, everyone should ensure proper rest for their mind and body.
Rest enhances your immunity
A robust immune system can prolong your life and contribute to your good health. But, how can you ensure that you have a robust immune system? Well, one easy way to do this would be to rest at least seven to eight hours at night. However, if you fail to achieve this, sleep deprivation can impair the functioning of your immune system, because of which you can easily fall sick.
Sleep affects social interactions
Humans are social beings who exist in a society. We need to talk and share our feelings and emotions for living a healthy and fulfilling life. However, loss of sleep can hamper your ability to interact with people. It can affect your ability to differentiate emotions of anger and happiness. This may cause misunderstandings and miscommunication, which, in turn, may contribute to poor social interactions.
Now that we have established the importance of sleep, we might as well look at how we can give the gift of peaceful sleep to our friends and family this Diwali.


How to ensure a peaceful sleep for your loved ones?
Besides offering sweets and gifts to your loved ones, you also pray for their health and peace of mind on Diwali. However, this time around, you can do something more than just hope for the well-being of your family and friends by gifting them this home sleep test. Through this gift, you can present a good night's sleep to those for whom you care. Using it, people can take a sleep test conveniently from the comfort of their homes. In addition, the device can conduct a proper diagnosis and streamline the results for healthcare professionals.
So, good quality sleep is an essential factor for a good life. It is the best gift that you can give to the people around you this Diwali!