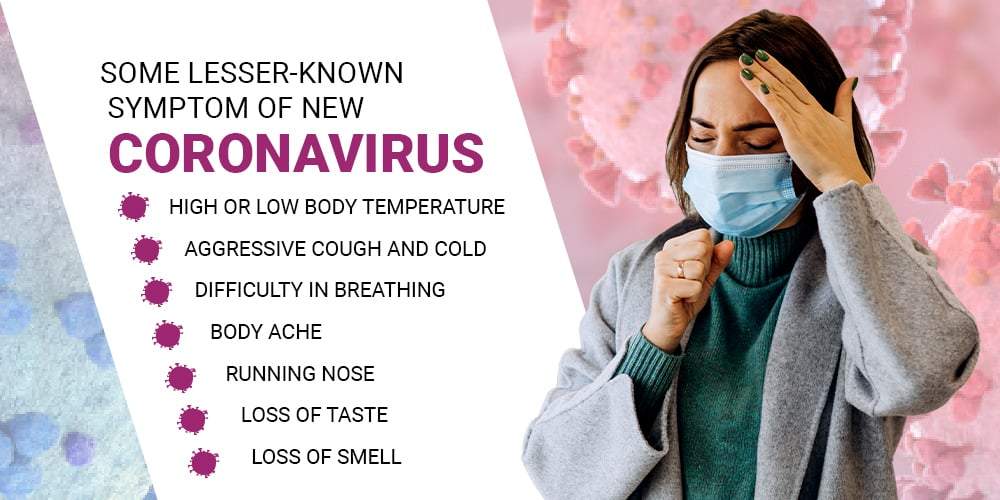 Some lesser-known symptom of new coronavirus symptoms
Topics: second corona wave, Corona Virus, COVID-19, coronavirus symptoms
As we know India is facing a spike in COVID-19 cases in the year 2021, named as the second wave of coronavirus symptoms. Experts say that people need to be more careful this time, there are some new coronavirus symptoms that people are unaware of.
This virus is extremely infectious for all age groups and it is as risky as the last corona was, so you just need to know about these symptoms and be careful.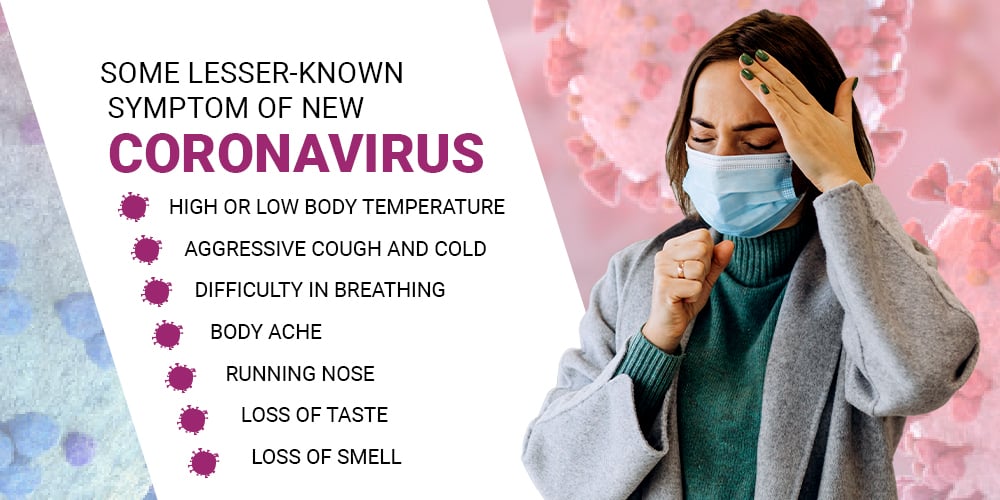 Here is the list of some of the symptoms-
High or low body temperature

Aggressive cough and cold

Difficulty in breathing

Body ache

Running nose

Loss of taste

Loss of smell
These were some of the symptoms which were already prevailing, listed below are some added ones-
Dry mouth

Non-salivation

Gastro-Intestinal infection

And headaches are more talked about now.
According to the US Centres for Disease Control (CDC) stated that direct contact with people who are ill can make you infected. Also, airborne transmission is one of the primary reasons behind the spread of coronavirus. There are some known symptoms already identified as fever, cough, chills, shortness of breath or difficulty breathing, repeated shaking with chills muscle or body aches, headache, sore throat, loss of taste or smell, etc.
Higher authorities like WHO have suggested the development of some other symptoms such as conjunctivitis, eye infection, and hearing loss accompanied with reduced hearing, ear pain, and gastrointestinal issues. The human digestive system consists of a liver, pancreas, and gall bladder which should be given extra care due to the COVID-19. It can interrupt the usual functioning and unable to absorbing electrolytes and fluids from our bodies.
In the case of red eyes, watery eyes and conjunctivitis is a sign of COVID-19 infection. If you have any of these mild to severe recurring symptoms, you need to get tested ASAP. According to the recent flash out of the National Institute of Health, most people are suffering from oral infection. Some of the common symptoms are as follows-
Dry mouth in which saliva doesn't make enough saliva in the mouth

Blisters or mouth ulcers occurred on the membranes of the mouth
As per the research, this virus affects the oral cavity and muscle fibers as compared to other body functions. Also, there is a strange symptom which is known as COVID tongue which is yet not discovered in India. In this condition, your tongue becomes white and patchy and your body just fails to produce saliva which protects your mouth from bacteria. People who have developed this symptom can find it difficult to chew food and even speak.
It is often accompanied by a change in the sensation of tongue sensation, muscle pain when you're chewing because of an oral ulcer. However, it is not specifically the symptom of COVID-19. COVID-19 patients have also come with some new symptoms which include a virus, including chills, loss of appetite, headaches, and muscle aches, etc.
These were some of the new coronavirus symptoms emerging into the world recently.